Hits: 0
General Bipin Rawat and his wife Madhulika
General's appointment as Army chief in December 2016 stirred a row as he was handpicked over the heads of two officers senior to him
General Bipin Rawat rode controversy blithely through his tenure as army chief (and later as India's first Chief of Defence Staff), and probably sailed closer to the political and ideological purposes of the party in power than any other army boss.
His appointment as army chief in December 2016 was itself controversy-ridden, for the Narendra Modi government had handpicked him over the heads of two officers senior to him in the hierarchy.
Rawat met the RSS chief, Mohan Bhagwat, in Nagpur in uniform and in full public view. He later defended his call saying there was "nothing wrong" in paying respect to elders, and that it was "part of our traditions".
In April 2017, Rawat infamously defended Major Leetul Gogoi for tying Farooq Ahmed Dar, a young Kashmiri craftsman, to his jeep bonnet
and using him as a human shield to drive through a hostile patch. Later, the army formally commended Gogoi for his widely condemned rights violation against an unarmed civilian.
Rawat was particularly belligerent on Kashmiri civilians through his tenure. During one phase of clashes between security forces and civilians he had said: "I wish these Kashmiri people were firing weapons at us instead of throwing stones. Then I could do what I…."
In an interview to The Telegraph in September 2018, Rawat had spoken with political authority on Kashmir. Referring to the appointment at the time of Satyapal Malik as governor of then Jammu and Kashmir state, he had said: "In Kashmir we want to give the new governor time."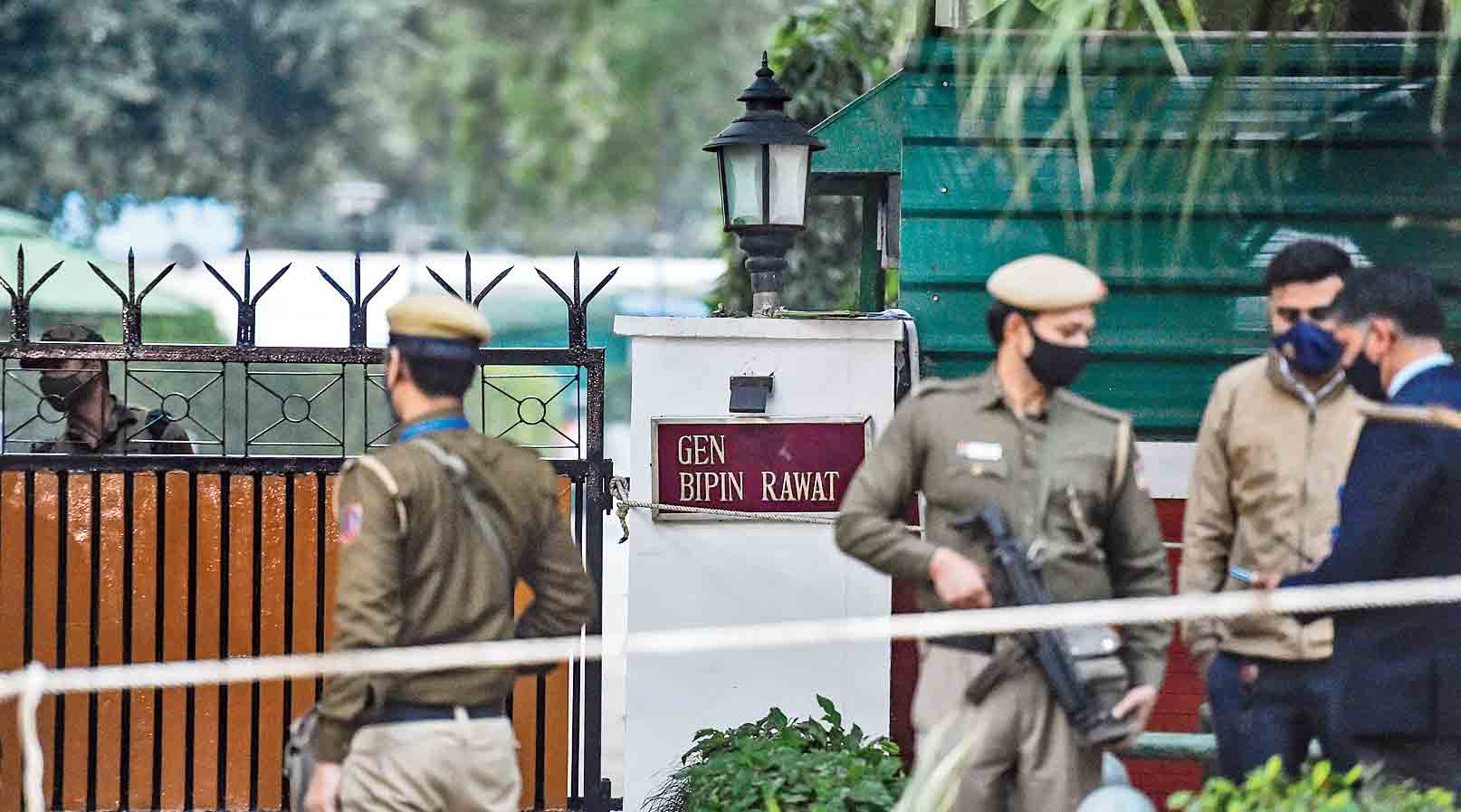 Addressing a seminar in Guwahati in February 2018, Rawat had remarked — to many raised eyebrows — that the Badruddin Ajmal-led All India United Democratic Front, a minority rights party, had grown in the Northeast much faster than the BJP.
He back-grounded his overtly political assertion saying that over the years there had been "planned Bangladeshi influx" into the Northeast.
The following year, as he was preparing to retire as army chief, Rawat wagged a warning finger at the anti-CAA protests erupting across the country and sent a thinly veiled missive to the Congress saying political leaders "should not lead masses to arson and violence".
Senior Congressman P. Chidambaram was among those who retorted sharply: "Political leaders will do what political parties have to do; let General Rawat not tell us what to do just as we do not tell generals how to fight a war."
It came as no surprise to those who monitor the workings of power under Prime Minister Modi that Rawat was appointed India's first CDS.
Earlier this year, Rawat made a statement that seemed to undermine the Indian Air Force, calling it a "supporting arm" of India's defence network and infrastructure.
His statement prompted then Air Chief Marshal R.K.S. Bhadauria to immediately, and publicly, rebut him and assert that the IAF had a much bigger role than just being a supporting arm.
To some, the manner of Rawat's tragic passing on Wednesday may also be suggestive of bitter elemental irony.
Post Disclaimer
Disclaimer: Bipin Rawat: A tenure marked by controversies - Views expressed by writers in this section are their own and do not necessarily reflect Latheefarook.com point-of-view