Large crowds gathered at the Presidential Palace premises once the protesters occupied the space
The protesters were continuously reminded to refrain from destroying public property
Over a 100 people have been injured following the protest
President Rajapaksa announced that he would tender his resignation on July 13
When word went round inviting all citizens to gather at the Galle Face Green on July 9, many thought that it wouldn't be a success with the imposition of curfew the previous

night. But as the government continued to test the patience of its people, with longer fuel queues, shortage of cooking gas, power cuts etc., people realised that it is either now or never. They were determined to support the protest despite the curfew. People were encouraged via social media platforms while several political parties and trade unions also invited people to join and demand the government to resign.
Towards a common goal..
On the evening of July 8, several groups headed towards GotaGoGama to spend the night ahead of the big day. Members of the Inter University Student Federation (IUSF) arrived in large numbers to support the struggle on the big day and they were protesting near the World Trade Center. The police had fired tear gas to disperse the protesters. The Galle Face protest site was regathering momentum as people from Wennappuwa, Chilaw and several other places walked in carrying the Lion Flag.
The morning of July 9 was filled with excitement as crowds started pouring in early. Many had walked while others made their way towards the Galle Face Green in trucks, lorries and other modes of transport. By 9.00am crowds gathered near The Kingsbury Hotel and were challenging the policemen who had formed a human barrier; preventing entry towards the Presidential Palace. The situation at the Chatham Street end was getting tense as several policemen started firing tear gas and high pressure water at the people. Eyewitnesses told the Daily Mirror that the police had resorted to attacks when people had walked past the police human barrier and forced their entry towards the Presidential Palace.
Tear gas was fired at people who started advancing towards the Presidential Palace from The Kingsbury Hotel end. Those moving towards Gate Zero or the Presidential Secretariat were stopped as the tear gas was becoming nasty and people were helping each other by lending water, ice and comforting fellow brothers and sisters. By this time the Galle Face was filled with people to the extent that much effort was put to avoid a stampede.
At around 12.30pm the word went around that protesters have acquired the Presidential Palace and that the forces had retreated. An hour later, the protesters were seen running towards the Presidential Secretariat amidst loud cheers from the people. Even though the people were excited, angry and overwhelmed by the opportunity they had to occupy the buildings, they were continuously reminded to refrain from destroying public property.

Changes in the political landscape
While the protesters were in a frenzy several events took place on the political front, simultaneously. The Prime Minister called for an urgent party leaders meeting at the Speaker's house and there it was decided that both the President and Prime Minister should resign. However Opposition Leader Sajith Premadasa and JVP Leader Anura Kumara Dissanayaka boycotted the meeting. Several ministers resigned from their positions or announced that they would work independently. Few hours later Prime Minister Ranil Wickremesinghe announced his intention to resign to facilitate an all-party Government. Subsequently President Rajapaksa too announced that he would tender his resignation on July 13.
United as one people
While at the protest, the Daily Mirror spoke to several people who had come to support the protest including prominent personalities who had been at the protest site since inception. Here's what they had to say:
"People shouldn't be suffering like this" – Anupama
Seated in her wheel-chair, Anupama Perera was being moved towards the barricade that was put up near The Kingsbury Hotel on July 9. She had taken to the street like all citizens to demand the president to step down. "Medicine that was worth Rs. 500 now costs Rs. 1000. Children are unable to attend school. Without gas, we cannot cook meals and everything is in a dilemma. So I had no option, but to take to the street and demand him (President) to resign. People shouldn't be suffering like this," said Perera.
"Country has been cursed after the Easter Sunday attacks" – Jayani
"We are living or rather surviving by God's Grace," said Jayani Fernando, a resident of Moratuwa. "There's no cooking gas, children cannot attend school, but as mentioned in a prayer, we somehow manage to cook our meals. But how many people are starving today? We feel for them. I'm happy about the events that transpired today. This country has been cursed after the Easter Sunday incident. As Catholics everyone of us was affected by the attacks. Today the rulers can't come out in public," said Jayani.
"No point in having a weak government" – Perera
Jayani Perera is employed in the private sector and is equally affected due to the prevailing crises. "Hospitals cannot function as usual, schools are closed and this government is unable to restore normalcy in the country. Therefore there's no point in having a weak government. If they leave we will at least have some hopes of getting international assistance.
I'm happy that everybody has come here with a common goal of ousting the incumbent government. We never anticipated to be inconvenienced in this manner," said Perera.
Was attack on Premier's home part of 'aragalaya'?
A source at the Colombo National Hospital said that so far 105 people have been hospitalised following the July 9 protests. However, many are being discharged except for one person who is critical and is receiving treatment at the ICU. Among the injured were 11 journalists.
Protesters, who occupied the President's House, continue to remain within the premises. They have handed over millions of cash found at the Palace to the Police. However the protesters at the Temple Trees were sent away.
On the other hand the situation near Prime Minister's House was similar to the Mirihana incident where people were attempting to destroy high pressure water browsers and obstruct the fire brigade from dowsing the fire. The Armed forces and Police were passive witnesses of the incident and didn't attempt to stop the people. As such whether they were part of the aragalaya or not remains a question. So far three people have been arrested in relation to the attack on the Prime Minister's house on July 9.
Even though several MPs have resigned from their posts the political front continues to remain unstable. A party leaders meeting will be held today (July 11) to further discuss matters and arrive at a conclusion.
"Cannot confirm if protesters were shot at": SSP Thalduwa
When contacted Police Spokesman SSP Nihal Thalduwa said that he cannot confirm if protesters were shot at since there is no confirmation from the National Hospital as yet. "However one person is critical and in the ICU," SSP Thalduwa said.
He denied claims about the Police firing at protesters. He said that the Police were armed with tear gas canisters only. "It was the STF Officers who had weapons with them," he added.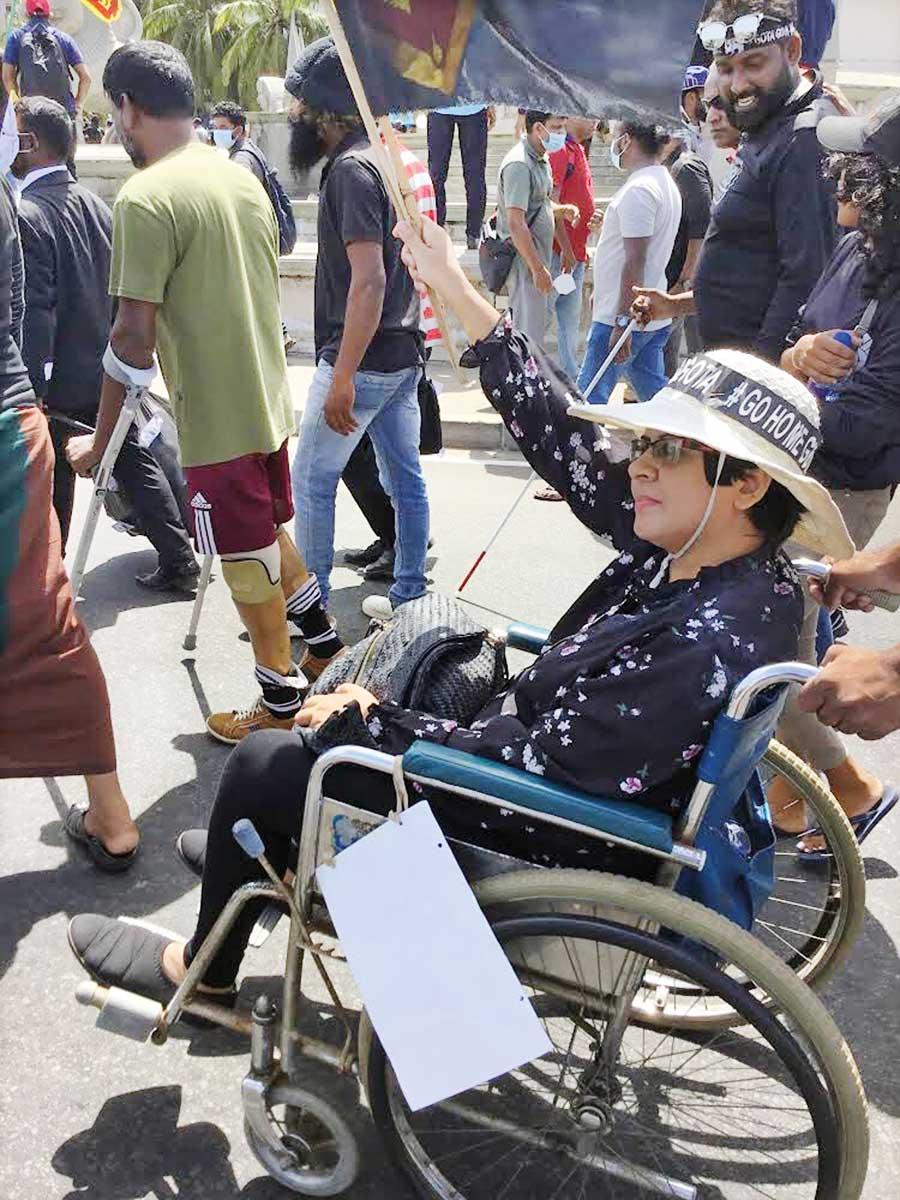 Anupama Perera
"Those moving towards Gate Zero or the Presidential Secretariat were stopped as the tear gas was becoming nasty and people were helping each other by lending water, ice and comforting fellow brothers and sisters"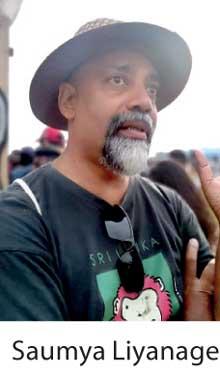 "It's a revolutionary moment" – Prof. Liyanage
Veteran artiste and senior lecturer at the University of Visual and Performing Arts Prof. Saumya Liyanage said that this is a historical moment and a great turning point in our social history in comparison to other revolutions we have had. "I have an overwhelming feeling at this moment. For the first time in this country people have realised that they have the power and sovereignty. In that sense it's a revolutionary moment and it's very fragile as well. To some extent things are unpredictable as well. People want to see a big Constitutional, social and cultural change. As an artiste and a member of the academia I'm happy to be part of this struggle. However, my concern is that we don't want to retain the existing structure anymore. We don't need to see the existing prime minister becoming President. We demand a different change. We don't know what it would be, but we all have to work for it, together," said Prof. Liyanage.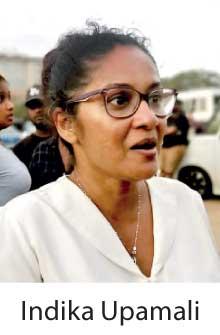 "Children have been the worst affected by this crisis" – Upamali
Popular songstress Indika Upamali, who recently released a song titled 'Pal Horuni' in view of the people's struggle, had been at the protests from the beginning. "I can't describe how I'm feeling right now. This is a decisive moment to change the existing political structure. By asking the President to leave it doesn't mean we want to see the Prime Minister becoming president. We need to have a vision about our future. Children have been the worst affected by this crisis.
Missing one day of school is a huge loss for them. That's why we are here to fight on behalf of them as well," said Upamali.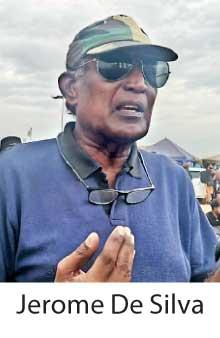 "We should now ask people about their story" – De Silva
Veteran theatrist and Director of The Workshop Players Jerome De Silva had been supporting the aragalaya since its beginning. Subsequently he started conducting theatre workshops at GotaGoGama. After April 9 and the major artistes' the numbers were getting lower. It was like we were losing battle. One of the reasons why I do workshops here is to keep this place alive. We can do so many things to keep this place alive but we wanted a milestone for it. So we thought we will have it on July 9 as the 100th day is on July 17. The plan is to stay here until the 17th until we see the expected end result. All those political parties have an agenda but we have no agenda except one; we need a system change. We now need to ask people about their story. There are stories of oppression, poverty, hunger, education etc. As artistes of the people's movement we have the ability and the persuasiveness to capture our audiences" said De Silva.
"No information about Rajapaksa family leaving by ship" : Navy Spokesman
During the protest word also went round that a ship was docked at the Colombo Port, so that the Rajapaksa family could escape. Denying claims Navy Spokesman Capt. Indika De Silva said that ships are usually sent out on missions and that passengers are not being declared. "In any case I haven't received any news about Mahinda Rajapaksa or any Rajapaksa family member leaving the country by ship," said Navy Spokesman Capt. Indika De Silva.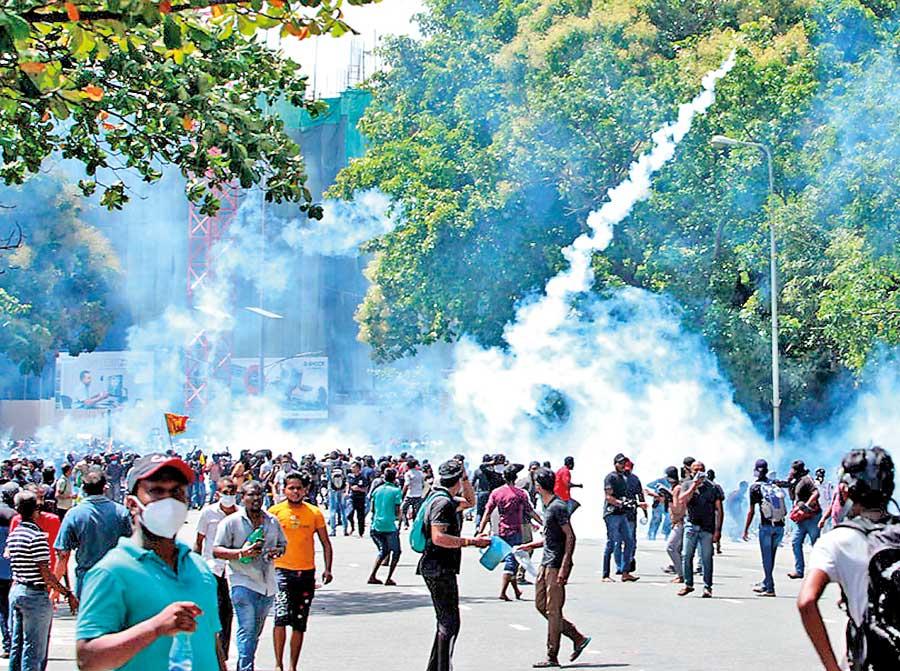 Portesters braving tear gas and pressure mounted by the security forces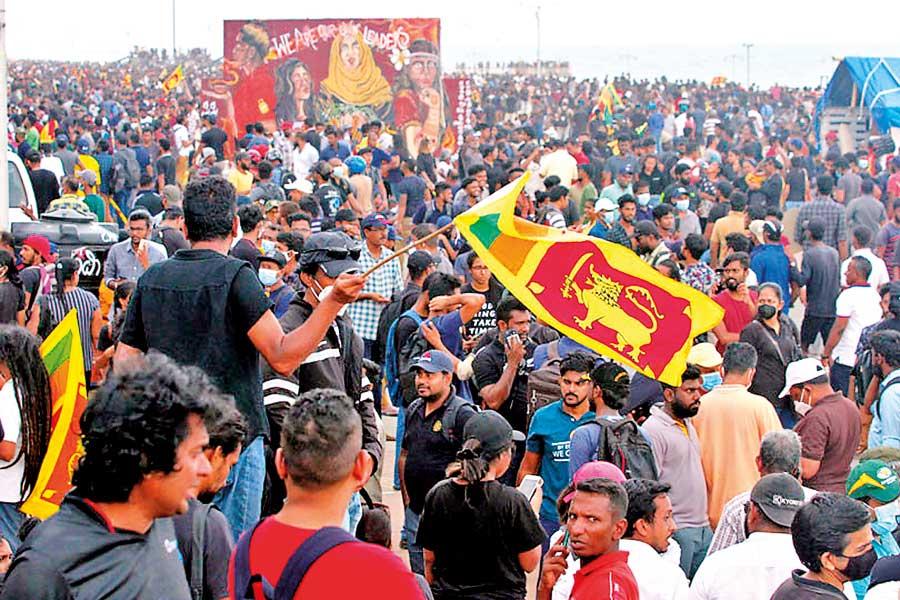 Everybody came to the protest site with the common goal of ousting the incumbent government

On Saturday the time was right for the final thrust – Pics by Pradeep Dilrukshana
Post Disclaimer
Disclaimer: Reviewing people's revolution and its aftermath: Government kneels as 'Aragalaya goes on overdrive' - Views expressed by writers in this section are their own and do not necessarily reflect Latheefarook.com point-of-view