The sunken ship – X-Press Pearl
---

Imagining a zero-risk scenario is quite unlikely but if learning and factoring changes do not take place, we are definitely losing an opportunity to make the process better for all. Today X-Press Pearl is awaiting that placement in maritime history in the hands of Sri Lankans
---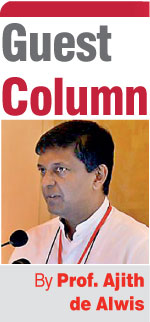 I am sure the title would be viewed in many ways and some may dive into the writeup searching for some juicy disclosures. Of course, I am quite incapable of this as I have tried to understand the environmental ramifications of this event and that has been the remit of mine. Of course, there are quite many environmental aspects from this event and I am equally sure that we have a few novel interactions taking place which we are still not fully aware of adding to the environmental disaster that it is already.
I am sure the title generates curiosity due to the nature of the exchanges that is moving with high velocity over the airwaves with the X-Press Pearl squarely in the centre. My viewpoint here is that the ship is of course gone but the wreck and all its associated events do offer multiple lessons to the country and the community – that is my sunken opportunity! So, do not get the idea into the head that the opportunity had gone. The point in reminding is that side of the argument – the need for learning and enforcing the learnings into the system – is yet to be heard of and you never know the next ship episode may be just around the corner.
When RMS Titanic and Empress of Ireland went down the world responded with quite several developments to support shipping and response. The main development was SOLAS – the Safety of Life at sea international convention. Countries across the world united to ensure that maritime travel was made safer. Two ships and one convention were not sufficient. Quite a number of maritime accidents occurred and each one of them led to a new development. Some of these developments were managerial, law and policy related. Some others led to technical innovations.
International Convention on Civil Liability for Oil Pollution Damage in 1969 came after the Torrey Canyon which affected both UK and French coastlines. Trying to reduce pollution to beaches the UK even bombed the ship to burn the oil and then later even had a sister ship confiscated in Singapore in the process of claiming damages. Obviously, an internationally accepted compensation scheme was necessary. Of course, our lives were getting quite complex with industrial revolutions coming out with so many new developments necessitating trade of significant quantities of fuel and chemicals, and ships were the primary means of movement. Without the chemicals definitely the quality of life we are either aspiring or enjoying is not possible.
Again, the chemicals and fuels misplaced or dislocated there are profound impacts as well and such actions result in serious environmental issues – both chronic and acute and deadly too. Wrong discharge can initiate a chain reaction where the results become visible quite late. Mercury discharges to a coastal bay area – Minamata bay – in Japan resulted in the first death in the community about eight years later. Today that learning is an international convention! Now can we look at a pristine-looking stretch of water and deduce the danger that only time will reveal? As per technical changes, the major accident near Brittany the ship Erika initiated the mandatory phasing out single hull oil tankers. Prestige disaster initiated this process.
Quite a number of such examples can be stated where a disaster led to positive developments. Yes, imagining a zero-risk scenario is quite unlikely but if learning and factoring changes do not take place, we are definitely losing an opportunity to make the process better for all. Today X-Press Pearl is awaiting that placement in maritime history in the hands of Sri Lankans.
X-Press Pearl, the Singaporean flagged feeder vessel was taking its third round trip voyage – Straits to Middle East service transport. The ship was a small container ship only three months old. We know that it entered Sri Lankan waters and anchored outside the Colombo harbour on 20 May 2021, it was doing that for the third time. On board were about 400-plus containers destined to support the Sri Lankan industry. Overall, the ship was carrying around 1,486 containers which included 81 containers with Dangerous Cargo. The passage of the ship from Jabel Ali to Colombo via Hamad and Hazira, definitely has so many lessons to offer as basically the ship was moving on relentlessly with a leaking dangerous cargo container on deck and the fact was known.
The story here needs careful analysis and perhaps may escalate to some international conventions in DG cargo stowage, port/place of refuge, etc. With dangerous goods as cargo increases and consequently the risks definitely, a much more committed approach with attention to detail in handling DG cargo is necessary. Usually, brand-new ships are unlikely to go down like this – its fate defies data. Reliability engineering assessments applied to maritime accidents demonstrate that X-Press Pearl is a serious anomaly – again several lessons await from container ship architecture to safety management. SOLAS recommendations on fire fighting requirements appear to be wanting if a certain threshold level is surpassed due to an accident. This means in turn better on-board management and skill requirements.
X-Press Pearl was immediately identified to be the worst maritime disaster that Sri Lanka experienced when the beaches became a sorry sight to behold and the skies darkened from smoke plumes. As more data emerged the disaster was positioned as one of the world's worst. An event like that with such a magnitude is capable of providing many lessons to any discerning learner. X-Press Pearl was not just a spill event but with fires and on-board explosions. Any combustion process is capable of generating chemicals that are much worse than the original chemicals and here the chemical cocktail present was available for multiple reaction scenarios.
The fire was on for nearly 12 days and noxious gases were blown across the land to the interior. As the event unfolded Sri Lanka did take steps to raise the issue of plastic nurdles in the environment. UN has now moved on with a program to place plastics labelled differently. Researchers in India have shown the presence of increased amounts of microplastics in fish taken from the Sri Lankan side of the Gulf of Mannar – an ecologically sensitive area. We know that the plastic nurdles not only basically encircled most of Sri Lankan beaches but moved away to places like Indonesia even – the latter understanding from modelling.
Further, these plastic nurdles discharged from the ship are likely to remain in the environment for many years to come while acting as pollution sponges thus increasing their toxicity every single minute. In that situation when fish and birds get a dose the issues in their physiology could be devastating. Microplastics go on to become nano plastics improving their mobility with potential to go anywhere and at that level very much less is known of effects. That is why this massive single-point discharge can unleash an environmental terror in trillion ways!
In the Indian Ocean in the Bay of Bengal today we have a dead zone similar to the Pacific garbage patch. We tend to forget that even innocuous-sounding cargo when it gets discharged in multiple tons, can pollute and pollute badly. This had been showcased with vegetable oil spillage from ships. X-Press discharged all its cargo from all its containers. Definitely, a significant portion of the cargo on deck got burnt off. Usually, a loss of about 50 containers in maritime parlance is a catastrophe.
Here not a single container was picked with its cargo intact as all efforts were on controlling the fire or on boundary cooling. 100% of the cargo becoming lost led to pollution in many ways. The disaster necessitating the use of firefighting powders, etc. which contain 'forever chemicals' polluted the oceans and finally the ship itself after submerging at a shallow depth within the continental boundary created an opportunity for an even greater pollution impact. This is the difference when the wreck is in shallow waters vs. in deep sea.
X-Press Pearl was an unfortunate event, and sadly at present, it is only creating fractions in discussions and in practice. However, I again wish to reiterate that we should not forget the importance of learning as otherwise the next ship would only showcase gross incompetence.
Post Disclaimer
Disclaimer: X-Press Pearl: The sunken opportunity - Views expressed by writers in this section are their own and do not necessarily reflect Latheefarook.com point-of-view