When she answered questions at the competition she pulled out 'gems' from some of the best Sinhala literary compilations and baffled both the audience and the presenter, Chandana Sooriyabandara
But there was no danger in Shukra being exposed to the Cyber world because she said that she used the internet strictly for education purposes. That was the level of her discipline
Girls like Shukra need not be told that there are undergraduates in Sri Lanka who are employed as labourers and office assistants in state institutes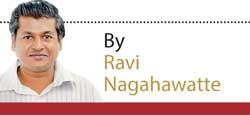 When the schools were reopened on Monday (January 25) for students in western Province there was another reason for them to celebrate other than getting back to a classroom environment. A schoolgirl from Galle had just won a prize worth two million Sri Lankan rupees contesting the show 'Who wants to be a millionaire'; underscoring the fact that child minds may not have idled at home during the period where students were given online education via zoom technology. The show was conducted by Sirasa Television.
The girl who created sensation was one Shukra Munawwar, a 17-year-old student of Sudharma Vidyalaya of Galle. There is much to learn from her in terms of how she put to best use the education she had received in a cultural background which is much different to where she lives and calls home. Shukra forces this writer to reveal her race; she is Muslim. But it is with much interest that we report that this commerce student had made sure that the lessons she learned in Sinhala literature were deep-rooted within. When she answered questions at the competition she pulled out 'gems' from some of the best Sinhala literary compilations and baffled both the audience and the presenter, Chandana Sooriyabandara.
We need to see beyond her winning and focus on how she culturally blended with the majority Sinhala students in her class at school. According to a Sinhala weekend newspaper which interviewed her she was open to ideas of other cultures and showed the willingness to mingle with students outside her race; being a cadet and participating in Buddhist functions in school.
During the early days of the fourth week of this month her name was more popular on television and on social media more than England Test cricketer and captain Joe Root who had got a century in a Test match
in Galle against host Sri Lanka
According to the story she has revealed about her family her mother has been the live-wire of the family and showed the four children in the family, of three girls and boy, the way forward after her dad had fallen ill.
Just the other day we read in newspapers that Minister of Trade Bandula Gunawardene had requested Education Minister GL Peiris to conduct an investigation to check on the transparency with regard to the procedure of selecting students, who shine at the Year Five Scholarship Exam, to continue their education in popular schools. Shukra never had that blessing because she didn't shine at this exam. Hence she remained in Galle even after her Ordinary Level Examination.
Most homes in the Muslim community don't encourage females to pursue higher education. But the environment that Shukra grows up in is different because her parents have encouraged her to blossom as any other individual and given her freedom; a liberty she has not misused.
Education during the past months were online and internet use was inevitable. But there was no danger in this girl being exposed to the Cyber world because she said that she used the internet strictly for education purposes. That was the level of her discipline; not forgetting her focus which is to complete education on a high note and find employment as an executive officer in a leading institute.
During the early days of the fourth  week of this month her name was more popular on television and on social media more than England Test cricketer and captain Joe Root who had got a century in a Test match in Galle against host Sri Lanka.
Shukra, quite unspoiled, opened out about her life at the show aired during weekends and underscored the fact that she is from a less affluent family and she participated at the competition to win a minimum of Rs 125,000 and buy herself a laptop. She ended up winning the 'jackpot' which is rupees two million.
Whether we like it or not individuals like Shukra will be followed by individuals for both good and bad reasons. The good side of it is that companies would eye her because she is a 'brain' and she has proved it; hence they would want her in their payroll. The not so good side would be that politicians would want to gain mileage by wanting to help her. Again on the flip side of it her success at the competition would make other girls in her Muslim community nudge their dads to allow them step into the outside world and explore all that is there in terms of education and opportunities. Just for the record even Shukra knows that women in Muslim families don't have the freedom to chose for themselves; let alone come out like this into the open and revel in a man's world!
In social media we saw how the presenter of the show visited her residence and attempted to nurture a friendship with the family. Soon there will be others who join the bandwagon and what she must be aware of is the lawmaker who steps into her residence and says 'Shukra you must take to politics' because it offers the best ticket to a luxury life!'
The Shukra we know values hard work and education. She knows that if she gets the right z score at the A Level Examination she would make it to the state university. But girls like Shukra need not be told that there are undergraduates in Sri Lanka who are employed as labourers and office assistants in state institutes. We read about such a pathetic state existing in state institutes through a weekend newspaper last week and that measures are being taken, thanks to an initiative taken by President Gotabaya Rajapaksa, to offer them alternative employment through an employment drive which will facilitated the offering of graduate appointments. The last time the state called for applications from graduates to fill in slots in employment as many as 91,665 degree holders responded and 49,478 received employment.
Shukra might receive a scholarship from a Colombo school to complete her school education. But that might not go well with Prime Minister Mahinda Rajapaksa's concept that village schools must come up and present themselves as alternative options for students who are nudged by their parents to earn scholarships and shift to popular schools.
Shukra must remain in Galle because that's her 'home' and the place where she can bask in all this glory for some more time. She must remain Muslim even if she loves the best literary products by great Sinhala scholars. She must pray five times a day in keeping with the Quran even if she participates in Buddhist activities in her school in Galle. And she must mingle more with the crowd even if in the past she only had less than a handful of friends. If how to mingle in society in not included in her school text book she can learn that from the politicians who will soon go out of their way to say hello to her.
And when she receives many more gifts from well-wishers in the future she can say 'Shukra' aloud because her name translated into Arabian language reads 'Thank You'.
Post Disclaimer
Disclaimer: Salaam Shukra! By Ravi Nagahawatte - Views expressed by writers in this section are their own and do not necessarily reflect Latheefarook.com point-of-view