Hits: 0
In Pathaan, Indian Muslims are expected to rein in their Muslimness and prove their loyalty to the nation and empire in order to belong (MEE Creative)
There is a moment in Pathaan, the new Bollywood film that has raked in historic profits in its debut week at the box office, when the titular character, played by Shah Rukh Khan (known as SRK), is asked: "Are you a Muslim?"
He deflects the question and answers that he doesn't know what he is since he is an orphan who was abandoned in a cinema hall. "My country brought me up. That's why I chose to serve my country and joined the army," he adds. The scene tells us everything we need to know about the film and reveals SRK's attitude towards religion in India.
But we shall return to that. First, let's talk about the plot.
In the thriller, Pathaan is tasked with stopping a deadly attack planned by an Indian ex-spy, Jim (John Abraham), who joins forces with a Pakistani army general, Qadir (Manish Wadhwa).
Is Pathaan really the film we have all been waiting for? Does it poke at any of the myths of Hindu nationalism and supremacy that have enveloped India over the past decade?
The movie villains threaten to unleash a lethal virus over a city in India that would annihilate its entire population. The Pakistani general wants to retaliate against India's decision to revoke Article 370, or the special status of the semi-autonomous region of Kashmir, while the former spy has a personal axe to grind with his former bosses.
Pathaan, a special agent working at the top of India's intelligence agency, RAW, has to pair up, albeit awkwardly at first, with Pakistani spy Rubina (Deepika Padukone) to save India from the deranged duo.
Since the film's main antagonist is an aggrieved Indian former spy working at the behest of a Pakistani general, it has been applauded for providing some nuance to the longstanding geopolitical rivalry existing between the neighbouring countries. So, in this way, Pathaan, a "good" Indian Muslim, works with Rubina, a "good" Pakistani agent, to prevent a massacre in India orchestrated by a "bad" Pakistani general and a "bad" errant Indian agent.
There are good people and bad people, the film seems to say. It doesn't matter if they are Indian or Pakistani.
This, some observers have noted, is the subversive plot that all of India and even Pakistan have been waiting for, as Delhi slides further into authoritarianism and fascism under the Hindu nationalist prime minister, Narendra Modi.
And Kashmir, like so many Bollywood films before it, is merely a placeholder.
'Raised by India'
The success of the film and the reopening of cinema halls to accommodate the returning masses to theatres ravaged by Covid-19 has been seen as a slap in the face to Hindu supremacists who called for its boycott over a saffron bikini scene. It was also interpreted as evidence of SRK's "resistance" to fascist forces who do not see a place for Muslims in India.
Why Shah Rukh Khan's time as a global Muslim icon is over
Azad Essa
But is Pathaan really the film we have all been waiting for?
Does it poke at any of the myths of Hindu nationalism and supremacy that have enveloped India over the past decade? For this, we must return to that scene when the whisky-toting-bikini-clad liberal Pakistani spy Rubina (read: "good Muslim") stares longingly at Pathaan and asks if he is Muslim.
After evading the question and expressing his nationalistic pride as the orphan who was "raised by India", Pathaan explains that his adopted name came from a clan in a village in Afghanistan that nursed him back to health following an injury he sustained during a mission for the Indian army.
In a single swipe, the scene erases both Pathaan and SRK's direct connection to his Muslim heritage.
In so doing, it succumbs to the Hindu nationalist belief that Islam is not intrinsic to Indian Muslims. Pathaan's Muslimness – conveyed through a story of how he was given his name in Afghanistan – is therefore a borrowed and acquired identity and, crucially, one that is foreign to India. In this way, Pathaan was "lost" and through his kinship with the Indian army, he is "found".
His allegiance, then, is to Mother India, to whom he belongs. And for Pathaan, Mother India manifests herself in his superior, Nandini (Dimple Kapadia) whom he calls mother, too.
Later, and naturally so, when Nandini sacrifices herself for the nation, she invokes the name of the Hindu deity Shiva, making it clear who is at the core of Mother India's spiritual centre.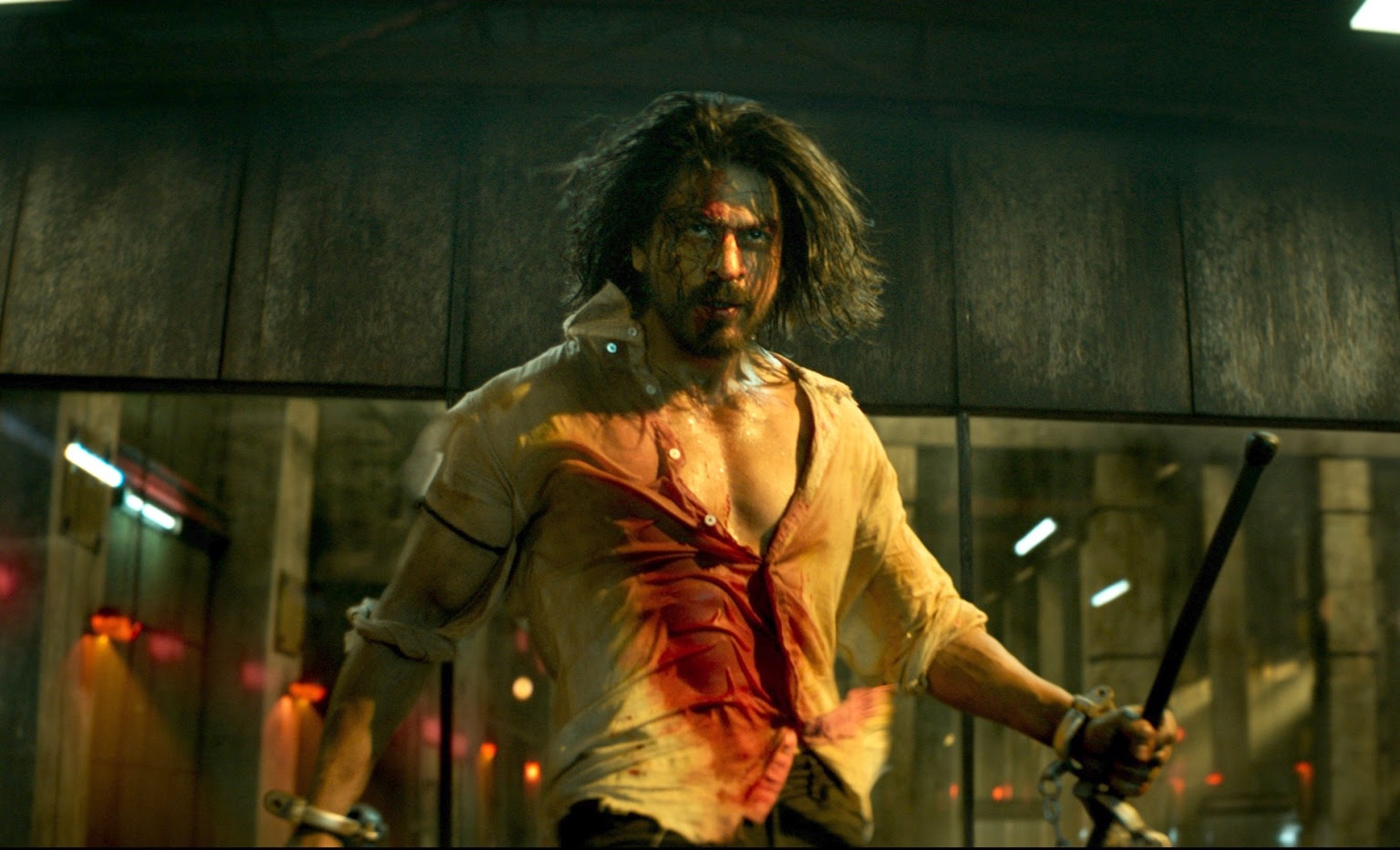 Shah Rukh Khan as the titular character in Pathaan (2023)
This is a stunning invocation of Hindutva (Hinduness, or ways of being Hindu) and underscores SRK's embrace of Hindu majoritarianism in Indian society while tacitly legitimising the vast prejudices against Muslims there.
We have seen it in Main Hoon Na (2004), in which the plot line is eerily similar. Invoking the Hindu epic The Ramayana, SRK plays Major Ram who works with his brother Lakshman (Zayed Khan) to stop another disgruntled Indian soldier, Raghavan (Suniel Shetty), from destroying a temporary peace deal with Pakistan.
On the surface, the film is an entertaining homage to classic 70s Bollywood cinema, but at its core, it celebrates militarism and promotes the Indian army as a just, moral actor in a rough world
On the surface, the film is an entertaining spoof and homage to classic 70s Bollywood cinema, but at its core, it celebrates militarism and promotes the Indian army as a just, moral actor in a rough world. Raghavan is a Hindu nationalist who cannot accept peace with Pakistan because his son died in Kashmir; and so the film can't help but find a way to casually demonise Kashmir, too.
In Chak De! India (2007), SRK plays Kabir Khan, a disgraced hockey player whose mistake against Pakistan in a World Cup Final costs India the World Cup. He is labelled a traitor. Years later, Kabir Khan takes on the coaching gig of the hapless Indian women's hockey team and leads them to an unthinkable World Cup win. In so doing, he proves his worth as an Indian Muslim and is welcomed back into Indian society.
Again, the message is clear: Muslims must perform the impossible to gain acceptance or remain invisible. It is the kind of approach SRK has carefully incorporated in his private life, too.
He is quoted as saying: "I am a Muslim, my wife is Hindu, and my kids are Hindustan," and "I gave my son and daughter names that could pass for generic (pan-Indian and pan-religious) ones: Aryan and Suhana", underlining that his privileged household is somewhat of a syncretic space, like Bollywood, where actors have for decades cosplayed as secularists and sold India as an inclusive, vibrant, non-violent, and tolerant democracy.
But outside the bubble, India has always been a difficult place for Muslims, or Dalits, or Christians.
Pathaan continues this legacy and refuses to engage with reality. But beyond the scam of the secular fantasy promulgated by Bollywood, of which SRK has been its biggest proponent, Pathaan goes even further and causes irreparable harm.
And this revolves around the depiction of Kashmir.
Kashmir: The real plot
Predictably, the film does not challenge India's decision to revoke Article 370, and the only "dissent" emerges from the Pakistani general and his hired mercenary who want to exact revenge on India.
But whereas Kashmir may be considered as merely the backdrop of the plot, Kashmir, in truth, is the plot itself.
In a time of rampant Hindu nationalism, when Modi and his ruling party, the BJP, are defining the Indian nation in strictly Hindu terms, Bollywood's fantasy secularism in the form of Pathaan has come to reinforce Hindutva's gains over Indian Muslims and over Kashmir while putting a liberal spin on it.
By the logic of the script, Pakistan's anger towards India over its actions in Kashmir is effectively reduced to one man's personal quest for vengeance. What Kashmiris themselves may want is not even a question or a consideration in the film. They are simply part of India, whether they like it or not.
A Kashmiri family walks as an Indian policeman calls a Kashmiri pedestrian for a surprise check in Srinagar, Kashmir on 23 January 2023 (AP)
Furthermore, the way to solve this crisis is not to restore Kashmir's semi-autonomous status or to work together to give Kashmiris their right to self-determination (one could only dream of the latter); the film instead teams up a pair of Indian and Pakistani spies to thwart an evil plot against India, portrayed as the victim, despite its role as the perpetrator of the central crime, the brutal annexation of Kashmir.
In another scene, Jim, the former spy turned villain, offers to call off the biological attack on one of India's cities if the government "gave" him Kashmir (presumably on behalf of the Pakistani general). India refuses.
Again, the message is clear: Kashmir is not up for discussion even if it results in the annihilation of an entire Indian city.
Undivided India
The abrogation of autonomy in 2019 and the period since then has seen some of the most difficult days in Kashmir in an already decades-long occupation. The Indian government's crackdown on all forms of dissent, including restrictions on internet access and communication, has had a chilling effect.
It has also implemented a project to change the demographics in order to achieve Hindu supremacy in the Muslim-majority region. The nature of Brand India, partly as a result of the soft power that Bollywood has exerted for decades, is such that India has been granted complete impunity by the international community for its brutalisation of Kashmiris.
For Indian Muslims the end times have arrived
What is this, other than the endorsement and normalisation of Modi, the RSS, and the Hindu right's settler-colonial project in Kashmir? And what message does it send?
Indian Muslims are expected to rein in their Muslimness and prove their loyalty to the nation and empire in order to belong, including, and especially, when it comes to normalising and defending the occupation of their fellow Muslims in Kashmir.
Moreover, Pathaan presents a world in which Pakistan and Afghanistan can be brought under the domain of India's ambitions too. All of the other countries in the region must orbit around India. The geographical overlap with Hindutva's territorial imaginaries of what is known as Akhand Bharat (Undivided India), which extends from Myanmar to Afghanistan, is hard to miss.
Is it really a surprise then that Pathaan uses "good" Afghan villagers to trap his Pakistan-sponsored adversary? The parallels with RSS and Indian foreign policy are stunning. And it does all of this with the finesse of a peacemaker and lover, and not a harsh polemicist or provocateur.
This is not to discount the fact that SRK has faced attacks and the wrath and jealousy of the Hindu nationalist brigade over his wealth and place as a symbol of inclusion in the Indian imagination. They have burnt his posters, trolled him endlessly online. His son, Aryan, too, was "deliberately targeted" in an irregular criminal investigation.
But within a week of the film's release, SRK observed in an interview that the success and love showered on him had greatly diminished the problems he had faced in recent years. "In the last four days, I've forgotten my last four years," he said.
The troubles he has faced, however, are nothing compared to what the last four years have meant to ordinary Indian Muslims reeling under new citizenship laws, pogroms, public lynchings, destruction of homes and mosques, mass arrests, and intimidation. Nor does it compare to the millions of Kashmiris waking up to new settler-colonial laws every passing day, while India has completely silenced and criminalised all forms of dissent.
For its hero to not even attempt to defeat the forces of communalism or fascism by way of fiction but instead ask that Muslims either hide themselves or organise in the service of the Hindu nation and help oppress Kashmiris further, Pathaan is not merely an awful film, it will strengthen the fascist hold over India
Post Disclaimer
Disclaimer: How Shah Rukh Khan's Pathaan will strengthen Hindu nationalism - Views expressed by writers in this section are their own and do not necessarily reflect Latheefarook.com point-of-view